Skeleton Man
Written by Joseph Bruchac
Illustrated by Joseph Bruchac
Reviewed by Alexandra P. (age 10)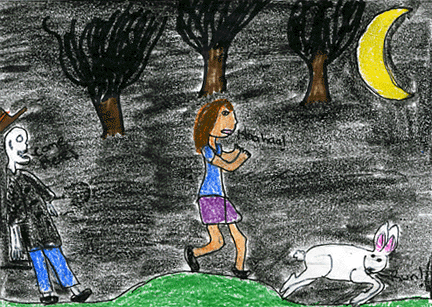 "He's not my uncle!" yelled Molly at the police department. In this story you will read about a girl named Molly whose parents disappeared one night. Molly was left alone for several days until the police found out. At the police station there was a mysterious man in an overcoat with a hat who was as pale as could be. He was claiming to be Molly's uncle. Molly had nobody to take care of her so she was forced to go live with this strange man. When Molly goes to school Mrs. Shabbas, her teacher, gets involved with Molly's problem. Molly tells her that her "uncle" locks her bedroom door every night from the outside! Mrs. Shabbas comes over and takes a look, but Molly's "uncle" has re-screwed the locks to the other side! After living with her "uncle" Molly becomes very frightened because she thinks that he is going to harm her. What will happen to her? Where are her parents? If you want to know the answer to these questions, then you should read this bone-chilling book!
When I was reading this book I felt scared at most parts and at some I felt worried for Molly. I wondered what was going to happen. Also, my favorite part of the book is when Molly woke up and her parents weren't there. That was very scary. I didn't think anything like that would happen. The character I found interesting was Molly's "uncle". I thought the way he acted was very weird.
I would recommend this book to people who like scary and eerie stories that make you want to read on and on. I recommend this book to children 9 and up because it is somewhat scary at some spots in the story. People might enjoy reading this book because the characters are odd, but very interesting.