If You Give A Pig A Pancake
Written by Laura Numeroff
Illustrated by Felicia Bond
Reviewed by Sharon K. (age 6)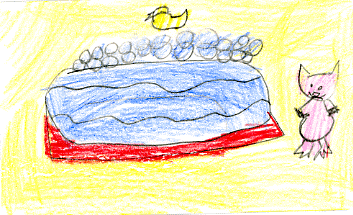 A pig wants a pancake. When he finishes eating the pancake, he wants to take a bath. He also wanted bubbles and a rubber ducky. When the pig got the rubber ducky it reminded him of the farm where he was born. The pig was homesick. Then he wanted to go visit the farm and pack a suitcase. The pig kept asking the girl for everything. She was getting tired and worn out. Read the book to find out all the different things the pig wants. He keeps the girl running around!
This book reminds me of when I asked my mom to mail a letter to Hawaii to my friend Nicole. I kept asking my mom to mail the letter just like the pig kept asking the girl for everything. My favorite part of the story was when the pig made a tree house. The tree house was big and really neat. I wish I could make a tree house. I liked the way the pig decorated the tree house too. He used wallpaper and glue. I like the pictures in the story because they look like real life. They are very colorful and have lots and lots of details.
I would recommend that kids from preschool to third grade read this book because it is a fun book. It is fun because the pig wants everything and keeps asking the girl. I think kids would like to do the things that the pig does like take a bubble bath, eat pancakes and build a tree house.