Hi, Pizza Man!
Written by Virginia Walter
Illustrated by Ponder Goembel
Reviewed by Daniel A. (age 9) & Maximo B. (age 9)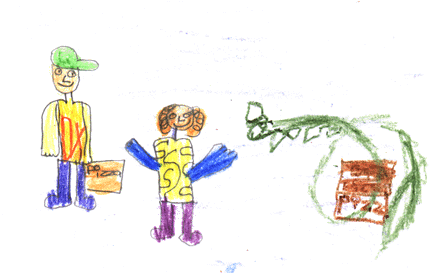 In the story "Hi, Pizza Man!" there is a girl named Vivian that is very hungry and says where is the pizza man. So the mom tells Vivian what if it was a pizza woman. When the woman comes Vivian says, "Hi, Pizza Woman!" She is dressed with a baseball cap, has a pearl necklace, and fancy clothes. Then a cat comes to the door and Vivian says "Meow, meow, Pizza Kitty!" The kitty had a hat and a cape and looked like a magician. Then Vivian is asked by her mother, "What if it's a pizza dog?" Vivian opens the door and says "Woof, Woof Pizza Dog!" Read the story to find out who delivers the pizza.
My (Daniel) favorite part was when Vivian thought of all the different animals that she can think of that would bring the pizza and all along it was a pizza man. I liked the book because Vivian was thinking of different animals and they were all dressed in funny clothes.
We recommend this book to other people because it is a very good book and very funny. It makes you laugh on every page. People who use their imagination a lot would enjoy this book.