Junie B. Jones is a Party Animal
Written by Barbara Park
Illustrated by Denise Brunkus
Reviewed by Alison B. (age 9)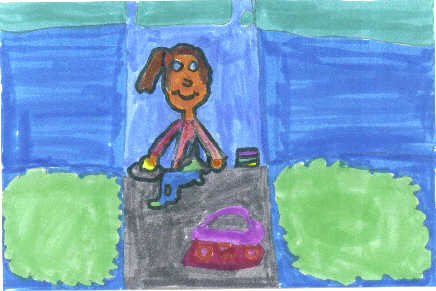 Calling all Junie B. Jones readers and friends who like to read. Junie is a fun little girl in kindergarten. She has two best friends, Luciele and Grace. When Luciele begs for a poodle and Junie B. interrupts, Luciele gets mad. She is mad all day but at recess Luciele starts to come around and she asks Junie B. and Grace to stay all night. But, they have to help her beg for her little white poodle. Find out what trouble Junie B. gets into at Nannas.
I like this book because it is fun to read over and over again. The author is Barbara Park and she has a lot of enthusiasm to write all the Junie B. Jones books. This book reminds me of when I went to a sleepover and one of my friends got a little too wild.
This is a series of books that never gets boring because of the characters. Lucile is serious, Grace is a silly willy, and Junie B. Jones is always just her hilarious self.
I recommend this book for first through fourth grades for those who enjoy silly stories that help to cheer you up.
This book has inspired me to read more of the Junie B. Jones books. You might like them too if you are in first through fourth grades and enjoy fun books.