Magic Tree House-Polar Bears Past Bedtime
Written by Mary Pope Osborne
Reviewed by Jacob M. (age 9)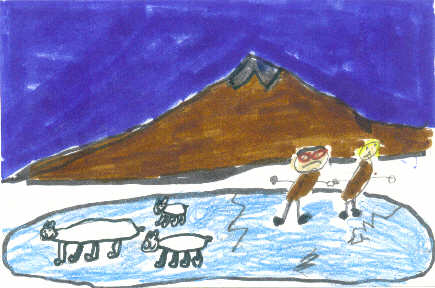 Do you know what it feel likes to be an eskimo? Well in this story two characters named Jack and Annie go to the Arctic in their magic tree house. They go there to solve a riddle: "I cover what's real and hide what's true. But sometimes I bring out the courage in you. What am I?" On the way they find polar bear cubs on a patch of ice. But when Jack tries to stand up....crack. The mother polar bear appears on the top of a snowbank some fifty feet away. Will they make it? Well, you will have to read the story to find out.
My favorite part is when Jack and Annie see the northern lights. It is my favorite part because I would really be amazed to see them. Annie reminds me of my mom because she knows what animals say. My mom thinks she knows what my dog says.
This book is part of a series in which they always travel in a treehouse far away from their home. This makes the stories much more interesting.
I recommend this book for second graders and up. It has words that would be too hard for first graders. I hope you get to read this book especially if you like the outdoors and its wonders.