Who Took The Cookies From The Cookie Jar?
Written by Philemon Sturges
Illustrated by Ashley Wolf
Reviewed by Sabrina G. (age 7)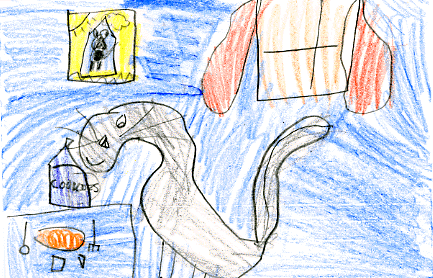 This is an animal story. It is about a skunk that cannot find his cookies. He looks all around the desert town and asks all the animals "Who took the cookies from the cookie jar?" The skunk asks the crow and the crow says, "I didn't take it". Then he asks the snake and the snake says the same. The skunk also asks the, the turtle, the mouse and many other animals if they have his cookies. Read this book if you want to find out who took the skunk's cookies?
I like this book because the skunk gets tired of looking for his cookies but he keeps on trying to find them. He never gives up. The characters in the story were cute and funny. They all helped each the skunk find his cookies. The skunk was my favorite of all the animals. He told all his friends that he wanted to find his cookies. At the beginning of the book there is a song. I like to sing the song a lot.
I would recommend the book to children ages 4 to 9 because it has two good lessons. It tells the reader to help people and to never give up!