Amos & Boris
Written by William Steig
Illustrated by William Steig
Reviewed by David V. (age 9)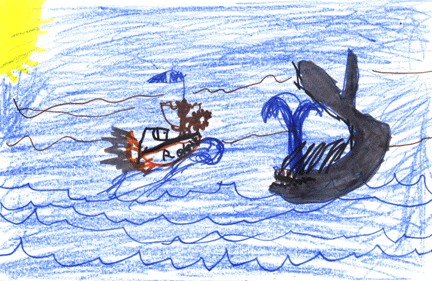 This book is about a mouse named Amos that lives in Africa. This mouse lives by an ocean and he loves the ocean so one day he builds a boat to go sailing in the ocean to explore the ocean waters. He sails a very long distance and then he falls off his boat. Then a whale named Boris saved his life. Then they become best friends. Years later a hurricane hits. Its name was Yetta. Boris the whale was tossed onto where Amos the mouse lives. Then Boris is dying on land. Boris is thinking how Amos is going to save such a big whale. Please read the book "Amos And Boris" to see what happens to these very good friends.
I felt sad and I felt happy because they were best friends and saved each other lives and they became best friends forever.
My favorite part was when they saved each other's lives because they care so much about each other that they save each other's lives.
I do like the book because in some parts are funny and cool it also teaches you a lesson you never know who you will need in your life.
I recommend this book to people who like adventures and to people who like whales and also to people who like funny books on account of it's funny when the whale throws the mouse overboard. My favorite part was when Amos saves Boris life.