Merry Christmas Strega Nona
Written by Tomie dePaola
Illustrated by Tomie dePaola
Reviewed by Kendall M (age 7)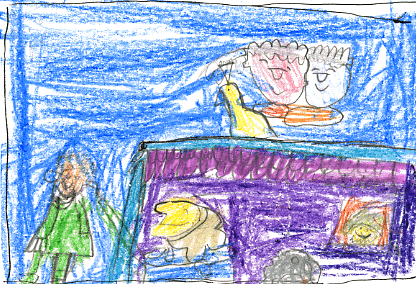 At Christmas, Strega Nona always makes a feast for everybody in town with Big Anthony's help. This Christmas Eve, on his way to the store to get food for Strega Nona, Big Anthony gets distracted and he comes home empty handed. Strega Nona gets very sad, because it's too late to prepare the feast for the townspeople. The lesson that Big Anthony learns is that Christmas has a magic of its own.
I like the book because even though it was sad that the Christmas dinner was interrupted, a surprise happens at the end of the story. My favorite part of the book was when Strega Nona pinched Anthony cheeks, read the story to find out why she did this.
I think kids or parents will like this book because it's funny and it shows how much everyone loves Strega Nona. I think kids would also like this book because it is about Christmas and all kids love Christmas. I think kids would like this book because it is easy to read, so they could read it without getting help from a grown-up.