Hold Tight
Written by John Prater
Illustrated by John Prater
Reviewed by Jordana L (age 8)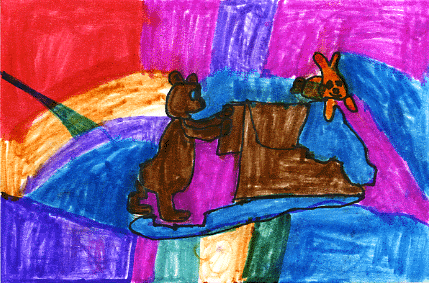 This book is about a baby bear that has a very big imagination. First he pretended that he was on a plane. Then he pretended that he was on a train. Next he pretended that he was in a boat. Then Baby Bear wants to help Grand Bear with the laundry. Grand Bear tells him that he will give him one more ride and says this will be the best ever! One of the lessons in this book is that you can have a really big imagination no matter how little you are.
I liked the story because I liked the pictures and Baby Bear is so cute! My favorite part of the book was when Baby Bear was on Grand Bear's shoulders. He was having so much fun I wish I could go on his shoulders, too.
I think you would like this story if you like bears. This book is fun for kids of all ages. So go run to the library and check out this book now, as soon as possible, so you will have fun too!