Elbert's Bad Word
Written by Audrey Wood
Illustrated by Audrey and Don Wood
Reviewed by Brian F. (age 9)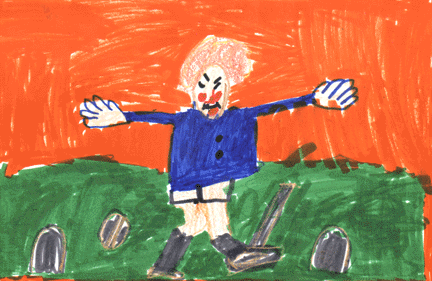 This book is about a little boy named Elbert. He found a bad word. He caught it and put it in his back pocket. When Elbert yawned the bad word went into his mouth. That's when the trouble began. Chives the butler tried to balance too many trays of eggs and he dropped the eggs on Madame Friatta's gown. After this, Madame Friatta drops her drink on Sir Hilary's bald head. Sir Hilary threw up his stick and it landed on Elbert's toe. That's when the ugly bad word came out. People could not believe their ears. Elbert's mother then takes him to the bathroom so he can wash his mouth out with soap. But the bad word is on his shoulder. Elbert went to the wizard's house. The wizard already knew he caught a bad word so he makes magic. Read the book to find what happened.
My favorite part is when the stick fell on Elbert's toe because his face turned red. It was my favorite part because that was when he started to say good words instead of bad words The story was great because it teaches you to use good words instead of bad words when you are saying your feelings. The illustrations are excellent because it sometimes shows the characters close up and sometimes it shows them further away.
I recommend this book because it has a lesson in it. The lesson in this story is you don't say bad words to express feelings you use good words. I think people who say bad words but don't want to would like this book because you're not supposed to say bad words to express feelings.