Redwall
Written by Brian Jaques
Illustrated by Gary Chalk
Reviewed by Cheyenne M. (age 9)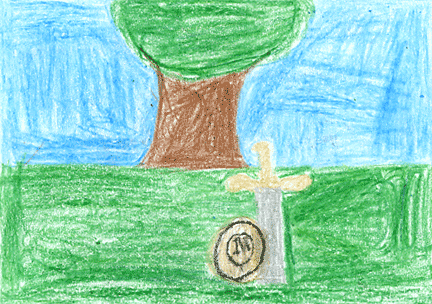 Bong! Bong! The Joseph Bell tolls the coming of Cluny, the Scourge! Redwall Abbey is a place of peace where mice and all other woodland creatures help the injured and aid the impoverished and wretched. But their peace will be hopelessly shattered when Cluny, the Scourge, and his five hundred rat followers roll into town vowing to conquer Redwall Abbey and everything inside. Only a young mouse can save Redwall Abbey by finding the legendary Martin the Warrior's sword. Only a riddle will reveal the secret of the lost warrior.
The character I found most interesting was Matthias because he was gentle. But in times of need he would fight until the end as the bravest warrior. I loved this book because it has interesting plot twists and when you think one character will do something, another character does something else totally different. My favorite part is when Matthias finds Martin's sword in a different place than it was originally. This was very exciting!
I recommend this book because it is exquisitely interesting, has a great plot line, and has great characters that are very good role models. I recommend this book to fifth grade and up if they don't mind blood, war, and the occasional bad word. I think the plot, setting (miniature castle), and characters (good/bad people) might interest readers.