Hello Kitty's Sneaky Peaky Mystery!
Written by Kim Ostrow
Reviewed by Tamara Y. (age 6)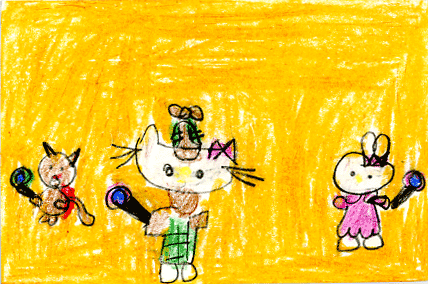 The book is about Hello Kitty. She was so happy there was a bake sale and her friends were coming over to bake cookies. Her mom was going to tell them when they are done and when they got back, the cookies were?. Read this story to find out!
My favorite part was when Hello Kitty woke up and she was happy. She was happy because the bake sale was the next day. I felt the same way today because tomorrow is my birthday. Hello Kitty made a lot of cookies and she is excited to sell them to people. Hello Kitty and Tippy are my favorite characters because they are good friends and always happy. They remind me of my friend Sabrina and I. This story reminds of when my cousin Noor had a bunch of M&M's. She put them down and left the room. When she came back all of her M&M's were gone, just like Hello Kitty's cookies. Noor's brother, Hashen, took all of her M&M's and Noor was sad.
I would recommend this book because it is about a bake sale mystery and a pretty cat named hello kitty. Hello Kitty is happy all the time and she never brags about anything. I think children ages 3 - 4 would like this book because there are cookies in it and kids like cookies.