If You Give A Pig A Pancake
Written by Laura Numeroff
Illustrated by Felicia Bond
Reviewed by Leslie H. (age 7)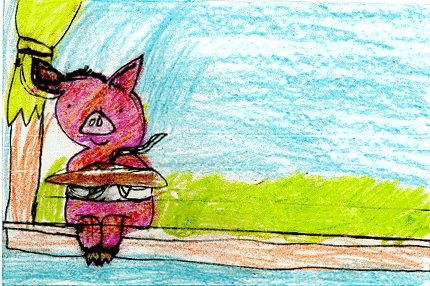 The story was about a girl and a little pink pig. The girl gave the little pink pig a pancake with maple syrup. After piggy got all sticky, he wanted to take a bath. Pig wanted bubbles and a toy duck. Then piggy will want to take pictures of her! After she will want to make a tree house, She'll ask for wood, wallpaper and glue. Then Pig will get all sticky and it will remind her of??
This book has really cute pictures. The illustrations of the pig are adorable because he is little and pink. I felt really happy when I read this book because the girl in the story takes pictures of the pig. My favorite picture is when the pig is sitting on top of the big couch. The pig is my favorite character because he is tiny. I think he looked cute when he was holding the pancake and sitting on the window.
I would recommend this book because it is a cute book. The pig leaps across the room to get the syrup. She looks so little and cute when she leaps.
I think teachers should read this book to their students because it is a short book and it is easy. The students might like this book because real pigs roll in the mud but this one doesn't!