If You Give a Mouse a Cookie
Written by Laura Numeroff
Illustrated by Felicia Bond
Reviewed by Bryce B. (age 7)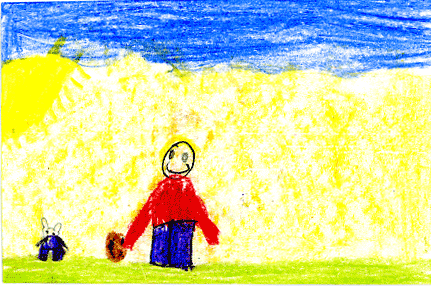 This story is about a mouse and a boy. The mouse wanted everything. First he wants a cookie then he wants milk. Next, the mouse wants a straw to drink the milk. The boy gets the straw for the mouse. The mouse wants to trim his whiskers and asks for nail clippers. The boy gets those for him too! The mouse decides to sweep one room and he enjoyed that some much, he swept the whole house. The boy is feeling exhausted because he has to run back and forth to get everything for the mouse. Will the boy continue to help the mouse?
My favorite part was when the mouse swept every room in the house because the mouse got carried away. It was funny because the mouse was only going to sweep one room and instead he swept the whole house. This book reminds me of when my mom kept on asking me take out the trash, just like the mouse kept asking the boy for everything. As I read this book, I wondered if the mouse would ever leave the boy's house and go back to his house. I don't think it would be very smart to leave the boy's house because the boy gives the mouse everything he wants.
I would recommend this story because there are many funny parts that made me laugh, especially when the mouse swept the entire house. I think children under the age of 10 should read this book because it teaches them if they really need something, they should get it for themselves.