If You Take a Mouse To School
Written by Laura Numeroff
Illustrated by Felicia Bond
Reviewed by Brian T. (age 7)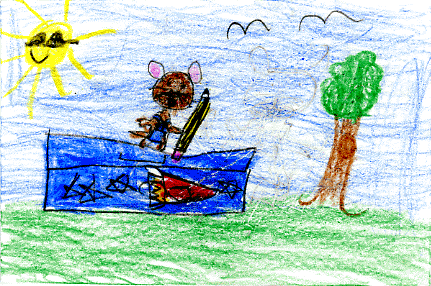 The book is about a mouse that goes to school and he wanted everything he needed for school. He needed a lunch box and a notebook. He also needed a snack for later and some pencils. When the mouse goes to school he gets to build things with blocks and make furniture out of clay. He gets to eat his lunch and play after school. Read this book to find out more about the mouse's day at school!
My favorite part was when the mouse did some science experiments because it is exciting. I want to be a scientist when I grow up and I hope to do some science experiments too. This book reminds me of when I went to Kindergarten. I had to get new school supplies and I played with blocks and clay just like the mouse. I liked the mouse a lot because he was funny. He can jump really high and he bothers the boy for the things he needs for school.
I think that children ages 5 to 7 would like this book because it is exciting. It is exciting when the mouse tries to do a science experiment when he goes to school. I think kids would like to see that. I also think teachers should read this story to their students on the first day of school. They can tell the students about the things they need for school.