The Trumpet of the Swan
Written by E.B. White
Illustrated by Edward Frascino
Reviewed by Libby W. (age 9)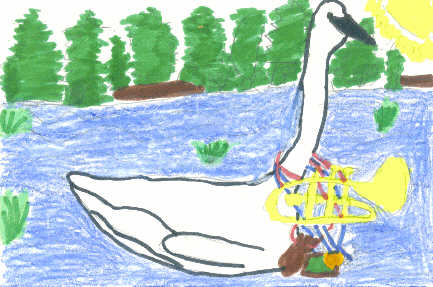 Louis is a bird of many talents. He can play the trumpet and even read and write! Louis came into the world without a voice. His father tells him he's going to get him a trumpet. Sam Beaver helps him out to get money to pay for the trumpet but when he tries to pay for it the storekeeper....I don't want to give it away! Read the story to find out what happens.
My favorite part is when Louis first tries to play the trumpet. I like this part because he tries so many times and can't succeed. The illustrations show Louis in many funny positions. He doesn't give up but perseveres.
E.B.White is my favorite author because he writes about animals that are funny and also teach lessons. He is also the author of Charlotte's Web. It is similiar to this book because he writes about how we can help animals and how we can learn from them.
I recommend this book for third through sixth grades. I also recommend this book to students who like animal action and adventure.