Harry Potter and The Goblet of Fire
Written by J.K. Rowling
Illustrated by Mary GrandPre
Reviewed by Michael F. (age 11)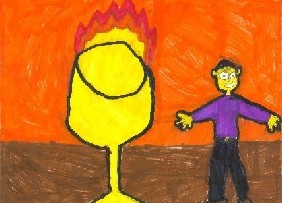 This is a book about Harry Potter and his exciting and wonderful adventures at Hogwarts School of Witchcraft and Wizardry. In this book, there is a contest called the Triwizard Tournament, but instead of three wizards competing, there are four, and Harry Potter is one of the four. With the Triwizard Tournament going on, and Valdemort coming back into power, Harry Potter has to watch his back even in his school! To find out what happens to Harry Potter, you have to read the book.
I could not put down this book. It is my favorite book in the world, and I believe it will be your favorite book too! This book hooks the reader and won't let go! My favorite part is in the end when, oh, well, I don't want to tell you or it will ruin the whole book. So, I guess you'll just have to read it. My favorite character was Ron because I am so clumsy, just like him. The illustrations were the best I have ever seen in a book, almost being identical in style to the other illustrations in J.K. Rowling's other books.
I recommend you read the whole series of Harry Potter so everything will come together like a jigsaw puzzle. Young children to middle age adults would all love this book full of suspense and adventure. Harry Potter goes through many different tasks and challenges.