Skeleton Man
Written by Joseph Bruchac
Illustrated by Joseph Bruchac
Reviewed by Devin C. (age 9)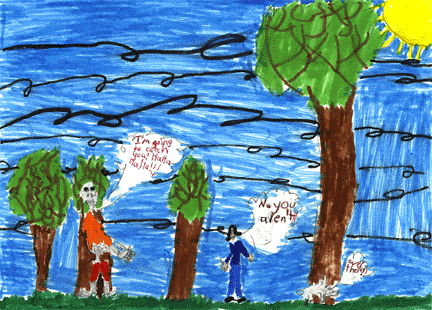 There's this girl named Molly and her parents are missing. She waits for a couple days and she gets worried. She tells her teacher and her teacher tells the counselor. Then her so-called uncle comes in to get her and brings her to his house. He locks her in her room every night and he tells her that she has to stay out of an old shed. She has crazy dreams. In one of them, he tells her to fatten up. She is scared of him! She thinks he is Skeleton Man and that he is going to eat her. Do you think he will eat her? Do you think she will find her parents? Read Skeleton Man and find out.
This is a very fantastic book. I like it because some parts are scary. The scary parts made me want to keep on reading. One scary part was when he was eating his own skin, and he ate the relatives of his niece. My favorite part was when the rabbit pointed his paw to help Molly because it sounded funny - a rabbit pointing his paw. My favorite character was Molly. I liked Molly because she saved her parents, and she was brave.
I recommend this story because it is a mystery and it keeps you reading. I think kids age ten and up could read this book.