Skeleton Man
Written by Joseph Bruchac
Illustrated by Joseph Bruchac
Reviewed by David L. (age 9)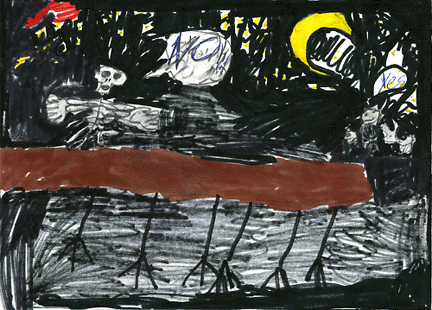 This book is about a girl whose mom and dad are missing. Her so-called uncle lives with her. She thinks this isn't really her uncle. Then she tells Ms. Shabbas, the school counselor. She makes a plan to escape. Then, she has weird dreams. Does she escape? Does she find her parents? Find out on the fantastic book, Skeleton Man!
I like this book because I think the book is kind of scary. Skeleton Man almost kills Molly's parents. My favorite part was when Skeleton Man fell off the edge of a log. I liked it because it slowed him down when he was chasing Molly. I liked the rabbit because she pointed her paws to make Molly know where to go. Michael Myers and Jason are like Skeleton Man because they just keep coming and coming to get revenge.
I recommend this awesome book because it's like a detective story. I think third grade and up can read this book alone.