Eragon
Written by Christopher Paolini
Reviewed by Melissa St. P. (age 10)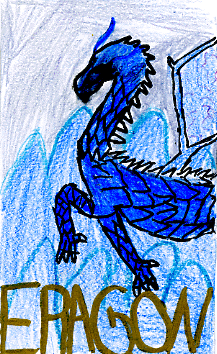 Ahh! A blinding flash of light fills the cold air by Eragon. When Eragon goes hunting for his Uncle Garrow and his cousin Roran, he finds a stone. After a few days Eragon finds out that the stone is really an egg! And a dragon egg at that! Eragon raises the dragon and names her Saphria. Then tragedy strikes. Garrow is killed and Roran moves away to find a job. Driven by the urge to revenge Garrow's death, Saphria, Eragon, and an old story teller named Brom ward off the evil Empire and make their way to help the Varden and save the kingdom of Alagaesia. My favorite part of Eragon is when Saphria and Eragon's friend Arya, the elf, come flying down from the top of Tronjheim (the capital of the Varden). Then Saphria breathes fire for the first time while Arya broke the giant sapphire at the top of the ceiling to save Eragon's life.
In this book Eragon changes enormously on the outside because of the many deaths he has faced and because of all the magic he has inside of him. There were a lot of interesting characters in this book but the character I think was most interesting were Saphria and Arya. I like them because they are the most magical and mysterious.
I recommend this book because it is very suspenseful and is a bit like real life if it weren't for the time period, dragons, and the magic. If you are in fifth grade or up and are not that bothered by war, then this book if for you! You might like this book because of the way it is written.