Stuart Goes to School
Written by Sara Pennypacker
Reviewed by C.M. (age 9)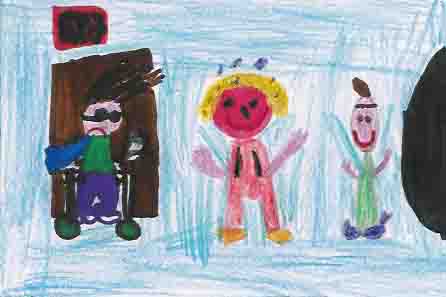 Stuart drew a picture of his class and accidentally forgot to draw his teacher in it. The next thing you know she was on top of the school roof. It is up to Stuart to save her but how will he?
On the first day of school Stuart was worried that he would get locked in the boys' bathroom. His mother wanted him to wear a cowboy shirt and plaid pants that would make your eyes hurt. That reminds me of picture day when my mom wanted me to wear my nicest clothes. She wanted me to wear my tan pants and a checkered shirt. I really didn't want to wear that because I like to look cool and I didn't want to look goofy.
The main character, Stuart, is a little weird because he has a magic cape that he made from old ties. The author also names characters after different types of food which can make you hungry. For example, one of the characters is named Nacho and every time I read this I felt like eating some nachos.
I recommend this book to a person who likes laughing and magic. This book is mysterious, funny, and a little weird but I enjoyed it. The main character, Stuart, is like a cartoon character who has magic powers. If you like magic and cartoons you will like this book.