Magic Tree House- Vacation Under the Volcano
Written by Mary Pope Osborne
Reviewed by B.R. (age 9)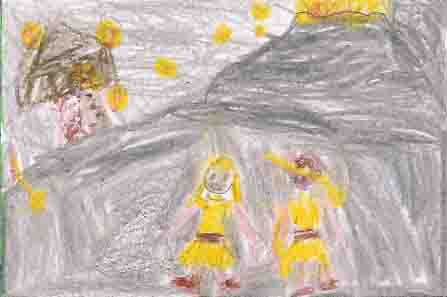 This book is about a brother and sister named Jack and Annie who are Master Librarians and go on missions to find books for a library called Camelot. The instructor who tells them what to do when they go on their missions is named Morgan le Fay. On their mission in this book they go to a faraway land called Pompeii. In Pompeii Jack and Annie run into a lady called a soothsayer that tells Jack and Annie to go home because they are in trouble. Jack and Annie now find a house that is filled with no people there. They run inside and find a bookroom and find tons of scrolls and books and they do not know which one is the way they need. Read this book to find out if Jack and Annie return home from Pompeii.
This book is unique to some other books because Jack and Annie go on vacation without their mom and dad. I think this book is very adventurous and I like it because Jack and Annie have to go places and risk their lives getting books to save a library. My favorite part of the book is when they enter the bookroom and start to read the scrolls and the scrolls are written in Latin so they don't know what they are reading.
I recommend this book to people who like adventurous stories because this book has characters that travel through time and space. There is a lot of action as Jack and Annie race time to get a book called Vir Fortissimus in Mundo before a volcano erupts and almost kills them. I would never want to go on this kind of adventure because it's a very dangerous risk for a nine year old kid like me. Jack and I have nothing in common because Jack goes on many adventures and I go on no adventures. Jack has a sister and I have a brother. Jack lives in Pennsylvania and I live in NJ. I loved this book a lot!