Sisterhood of the Traveling Pants
Written by Ann Brashares
Reviewed by Blair G. (age 10)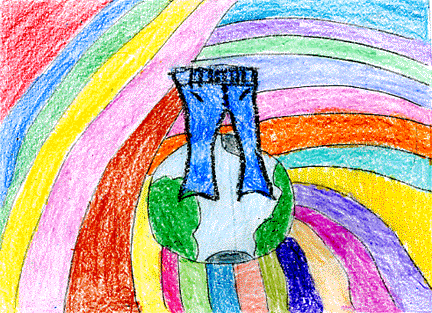 The Sisterhood of the Traveling Pants was an excellent book. It was funny, sad, and all around crazy! This book was about four best friends who were about to split up for the summer. On one of their last days together, the friends found a pair of jeans in one of their closets. The pants fit all the friends even though they are all different sizes. The girls decided that the only way to stay connected over the summer was to share these "magical" pants. Each girl would get the pants twice over the summer. The girls had to keep the pants for less than a week and then send them to the next person with a letter. You could still write a letter to someone even if you were not sending the pants. The book is all about friendship and how even when you are not with your friends, your friendship can still grow stronger.
There was Carmen who was going to visit her dad in South Carolina and was in for a big surprise! First of all, Al, her dad, moved out of his apartment and into a house that was massive and he was getting married. Carmen is not pleased with this situation and turns to her friends for some advice. Lena goes to Greece to visit her grandparents. Here she is able to spend time at her favorite hobby, painting. Bridget heads to a soccer camp in California. The last "sister" was Tibby. She stayed home all summer, working at Wallmens, a grocery store. This summer turns out to be a very sad time for Tibby. Not only is she separated from her friends, but she suffers heart-breaking losses.
I thought this was a great book. I liked it because I often travel and don't see my friends much over the summer. I also found the book to be quite humorous. For example, my favorite part was when Tibby froze her guinea pig, Mimi, after she dies. However, the dying part was not what I found funny. What I found hysterical was when Tibby put Mimi in the front part of the freezer and then I pictured Loretta, the maid, dumping Mimi into a pot and roasting her. That was probably the funniest part.
The Sisterhood of the Traveling Pants was unique because ... how often do you read a book about four friends that are all different sizes and one pair of "magical" pants fits all of them? Not only do the pants fit all the friends perfectly, the pants also manage to bring them closer together.
I highly recommend this book because I think a lot of girls would like a book about travel, clothes, and, most of all, friendship. I feel this book is for girls that are ages ten and up. The plot will interest most female readers in this age group. Since I know many people that travel and spend time away from their friends, many readers would be able to relate to this book. I really enjoy books that I can relate to because then I know what is going on and I can take pleasure in reading the book from start to finish.