The Silly Gooses
Written by Dav Pilkey
Illustrated by Dav Pilkey
Reviewed by Giovanni L. (age 8)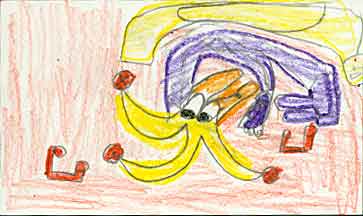 Mr. goose was so silly and he was so crazy. The geese said stop being silly. Nobody wanted to marry him. Then Mr. Goose finds a wife. Then he got married .then his wife and Mr. Goose were eating the cake. Then they were sitting on their eggs on their chairs and they got babies. They take them to the dentist. Then the dentist say to take the shells off their heads. The wife and Mr. Goose put a name mustard and ketchup. Then they went out with the boat. The baby say to go to the store again. Then they were singing. Then mr goose was wearing a silly dress.
I like this book because it is funny. My favorite part is when the gooses was riding a motorcycle. The silly goose was so stupid. The wife was singing like a clown. I like the pictures because they were so silly. The wife and Mr. Goose were screaming like a girl.
Everybody would like this book because it?s funny and they are silly. My friend would like this book a lot because The Gooses are crazy.