Mewtwo Strikes Back
Written by Tracey West
Illustrated by Tracey West
Reviewed by Luke M. (age 8)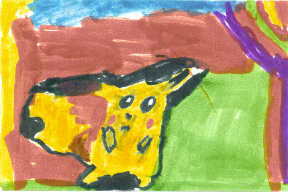 This book was written after the Pokemon movie was made. It tells about two characters who fight each other and use different kinds of Pokemon to battle each other. A Pokemon is a creature that can do a very special thing. A fire Pokeman can shoot flames too hot to touch. A water Pokemon can use water in battle. There are over 100 different kinds of Pokemon. In this story Ash battles Mewtwo. Ash is the good character and Mewtwo is the bad character. Mewtwo is the most powerful Pokemon in the world. Can Ash and his Pokemon save the world? Can they defeat Mewtwo? Read the book to find out.
The book did not have any drawings. It just had photographs of parts of the movie. This book was really exciting because it had a lot of action in it. One action part was when the Pokemon battle each other. That was my favorite part because it had all kinds Pokemon fight each other. This is exciting for me because I want the good Pokemon to win. As I read the story I rooted for the good Pokemon. Ash is my favorite character in the book because he is the hero of the story. I like Ash because I would like to be a hero like him.
I really liked this book because it has a lot of action. When I read the battle parts I imagined myself in the battle. Anyone who likes stories with action would like this book. Kids in second grade who like action books would like this book.