Hungry, Hungry Sharks
Written by Joanna Cole
Reviewed by Katie S. (age 8)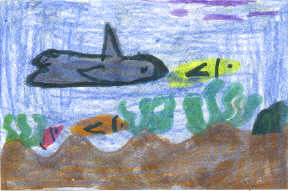 Sharks have been around for millions of years but are now in danger of dying out. Humans kill sharks for meat and jewelry. This book not only tells you facts about sharks, but it also tells you that sharks are misunderstood, just like bats are misunderstood. Sharks do not eat or bite people on purpose. Sometimes sharks think that legs are fish and will end up biting a person. You can find out if a shark ever stops swimming or if it ever goes to sleep by reading this book. You can learn a lot of new and interesting facts about sharks in this book.
I really liked this book because I didn't know a whole lot about sharks until I read this book. I learned that sharks lived millions of years ago. That part was really interesting to me because it was something new that I learned. This book is part of a series called "Step Into Reading". I haven't read any of the other books in the series, but I would like to read some of the other books. One book that I think would be fun to read is P.J. FUNNYBONES CAMPS OUT. I would like to read that book because it sounds like a funny book. I like to read funny books because I like to laugh and I think that this book might make me laugh.
The illustrations in HUNGRY, HUNGRY, SHARKS are in greys, blues, blacks, and browns. I think the illustrator uses these colors because those are the colors that are found in the waters where sharks live. Almost all the drawings take up most of a page. I think the illustrator did this so that you could see the details of the sharks and other sea creatures.
I would recommend this book because it is easy to read. Children in first through third grade could easily read this book by themselves. If you love science or sharks you probably would like to read this book.