The Adventures of Tom Sawyer #2
Written by Mark Twain, condensed and adapted by W.T. Robinson
Illustrated by Ruth Palmer
Reviewed by Shivank S. (age 8)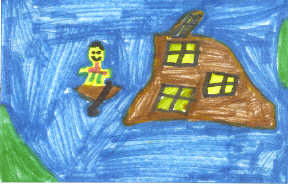 This book is about a boy named Tom Sawyer. Tom is very naughty and often gets into trouble with his best friend Huckleberry Finn. The two boys are also very adventurous. In fact, they go on two or three different adventures in the book. What kind of adventures do they get into? You'll have to read the book to find out yourself! But I'll give you a hint. This book has a lesson to teach you. The lesson is that when you don't listen to adults, sometimes the fun turns into fright. This chapter book was fun and scary to read. It was scary because sometimes when I would read it before going to bed, I would get nightmares. But I finished the book anyway because I wanted to find out about the adventures that Tom and Huck went on. I just didn't read the story before going to bed.
THE ADVENTURES OF TOM SAWYER is part of a series of books called the Dalmatian Children's Classics. I've read two other books in this series that were scary in parts like this one. They were DR. JEKYLL and MR. HYDE and the other book was WHITE FANG. I like to read scary books because I know that if they get too scary I can stop reading them and do something else for a while. Then later when my scared feelings go away, I can go back and read more of the books. My favorite scary part in THE ADVENTURES OF TOM SAWYER was when Tom met Injun Joe in the cave. I imagined what it would be like in a dark cave and so that part was VERY scary for me.
The illustrations in this book are different from most second grade books. They are not on every page and they are black ink drawings instead of being in color. One neat thing about the beginning of each chapter is that there is a small ink drawing under the title of every chapter.
I would recommend this book to first and second graders who are pretty good readers. If you like to use your imagination and go on adventures you would probably like this book. If you like scary stories, this might be the book for you.