Green Eggs and Ham
Written by Dr. Seuss
Illustrated by Dr. Seuss
Reviewed by Will H. (age 8)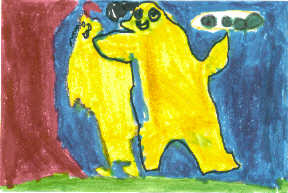 This story is about a character named Sam-I-am and a cartoon character without a name. Sam-I-am tries to get the cartoon character to eat green eggs and ham in different places. One place is in a box. Then he asks him if he would like to eat them with a fox. Sam-I-am keeps thinking up of all kinds of places that the cartoon character might like to eat the green eggs and ham. Sam-I-am doesn't take "no" for an answer and finally convinces the cartoon character to try the green eggs and ham. But does the cartoon character like them? Read this funny book to find out.
One of the reasons I liked this book is because one of the characters in the story reminded me of a cousin of mine. This cousin always "bugs me" the way Sam-I-am "bugs" the cartoon character in the story. I know exactly how the cartoon character felt because it's happened to me many times before and it's not any fun. Another reason I liked this book is because of all the different places that Sam-I-am thought up to eat green eggs and ham. Some of the places reminded me of places that I've been to. The underwater part reminded me of the times that my family and I had gone to the beach. The tree part reminded me of the times I've played in a treehouse.
My favorite part of the book is when the cartoon character finally took a bite of the green eggs and ham. I liked that part best because it's always exciting to find out what happens near the end.
Dr. Seuss outlines his illustrations in black. Then he uses red, green, a very light yellow, and a medium blue to color them. Sometimes he just leaves the pictures white with just the black outline, but most of the time he uses one of the other colors.
I would recommend this book to children ages six and up and to adults. Everybody ... everybody, loves this book! Even my Dad loves this book! So adults like this book, too. This book has a lot of excitement, especially at the end.