Batbaby Finds a Home
Written by Robert Quackenbush
Illustrated by Robert Quackenbush
Reviewed by Mika G. (age 7)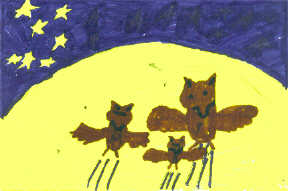 A bat family lives in an old barn until one day a bulldozer tears it down. Now the bat family has to find a new home. Everytime that they think that they have found the perfect place to live, something happens to ruin it and they have to move away. This happens about five times. Then Batbaby decides to visit his friends in the forest to ask them for help. Squirrel and Woodpecker tell Batbaby that they know of the perfect home for him and his family. You'll be surprised where the bat family finally makes its home.
Batbaby reminds me of my Mom. When Batbaby's family had to move, Batbaby wanted to say good-bye to his friends. My Mom told me that the first time she moved away she wanted to say good-bye to her friends before leaving, just like Batbaby. This was a good book becasue I didn't know where the bat family was going to live until the very end. It kept me guessing. The illustrator of this book uses a lot of purple in his drawings. I think he does this to give you the idea of nighttime. That's when bats come out to hunt for bugs.
I would recommend this book to anybody who likes to read about bats. The book not only tells you about a bat family that tries to find a new place to live, but it has true bat facts at the end. First graders who are good readers and older children could read this book on their own. If you like bats but can't read all the words yourself, you might get someone else to read it to you.