Hugs and Kisses
Written by Christophe Loupy
Illustrated by Eve Tharlet
Reviewed by Christy N. (age 7)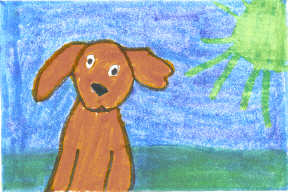 A dog named Hugs wants to find out who has the best kiss. He leaves home really early one morning to visit his animal friends. He asks each of them to give him a kiss. It takes him the whole day to do this. When he finally gets back home he tells his family whose kiss he likes the best. Does he like the duck's kiss or the horse's kiss the best? Or is it another animal's kiss that he likes better? Read this book to find out.
This is a good book because it's funny to me. Hugs always closes his eyes when he gets kisses from the other animals. This makes me laugh because the pictures of Hugs look funny and make me laugh.
My favorite part was when Hugs got a kiss from the horse. I liked that part best because Hugs says that the horse's kiss is a bit damp and sticky. That made me laugh because I imagined what that would look like.
The illustrator uses watercolors to do the drawings. All the colors are light. She uses mostly browns, greens, yellows, and some blues.
I would recommend this book because this book shows all the places that Hugs goes to. Kids who like puppies would probably like to read this book. I think first and second graders would like this book. First graders who read well and most second graders could read this book by themselves.