The Knight at Dawn
Written by Mary Pope Osborn
Reviewed by K.T. (age 10)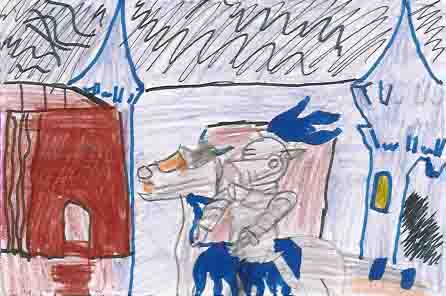 This book is about two little children named Jack and Annie. They're training to become master librarians by going into some books they found in a treehouse. They just have to say, "I wish I could go there", then the treehouse spins in circles faster and faster. Then it stops and it's very quiet. Then the kids look out the window and they're at the place they want to go to. In this book Jack and Annie have a weird dream about a magic fairy, but they're still trying to find out what it is. When they wake up its 5 AM. Annie wants to go back to the treehouse but Jack wants to stay in his room. They end up going to the treehouse, walk up the ladder, and find a huge amount of books up there. Annie finds a book with a knight on a black horse and a castle in the background. She points to the book and says, "I wish we could go there". The treehouse spins faster and faster and when it stops they hear a horse. They are at the castle. They see everything that was on the cover of the book. Then Jack takes the book and says the magic words. The treehouse starts spinning faster and faster but when it stops they are still at the castle. Read the book to find out if Jack and Annie ever get back to their house.
This book reminds me of the Bailey School kids. It's because they go on many weird adventures. My favorite part of the book is when Annie screams at Jack when Jack is sleepwalking. It was funny. The book also reminds me of when I pretend with my sister. We do that a lot.
I recommend this book to people who like mystery stories, adventure books, and books that bring you into the past. It has some very exciting moments and I really enjoyed it.