Goosebumps- The Girl Who Cried Monster
Written by R. L.. Stine
Reviewed by L.K. (age 9)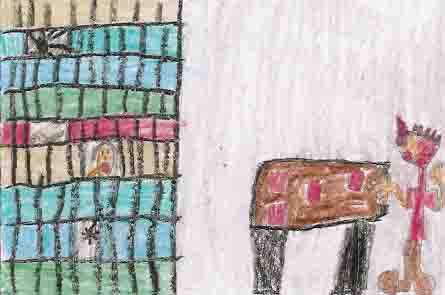 This book is about a girl named Lucy who loved playing monster tricks, telling monster stories, and scaring her little brother, Randy. Lucy goes to a summer reading club called Reading Rangers that is hosted by the librarian in her town. Lucy tells so many monster stories that when she finally meets a real monster, the librarian, nobody believes her, not even her best friend, Aaron.
My favorite part was when the monster cornered Lucy in the library because she escaped in a unique way. This book is also like another book I read called The Boy Who Cried Wolf. The two stories have the same idea. If you keep telling stories that are not true, then one day when you are telling the truth nobody will believe you.
It was also cool how the librarian turned into a monster. First his head inflated. Then his eyeballs bulged out of his head. Last, his muscles grew as big as a truck's wheels.
I recommend this book to people who like horror. The book is mostly filled with freaky and scary parts like eating a bug! I also recommend this book to mystery lovers and people who like surprises. The biggest surprise in this book is the ending.