Blue Willow
Written by Dorris Gates
Illustrated by Paul Lantz
Reviewed by Tia W (age 9)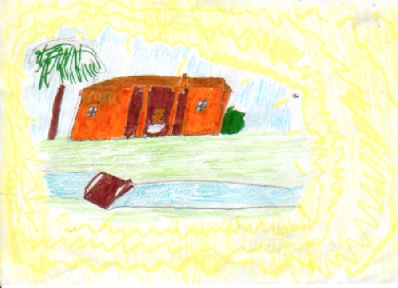 Janey is a daughter of a migrant worker. She is tired of moving around because her father can't find work. They are very poor, but she owns a blue willow plate that is worth nearly 20 dollars. Janey's family moves to a new home that is abandoned in the country. Janey thinks that this place is perfect. She longs to go to a "regular" school, and goes with a new friend that lives across the road. A man who looks very suspicious charges them rent. When Janey's mother gets sick, they don't have the money to pay the rent or the doctor. Janey gives up the blue willow plate to pay the rent. Will Janey lose the willow plate forever? Read this book to find out.
I like this book because you never know what's going to happen next. I really like this book because it has a very happy ending. This book is not full of suspense. I like the part in the story where Janey's family goes to the river because something exciting happens there. It tells the story of everyday life for Janey. It's kind of like you don't know what's going to happen next, but you're not itching to know. I think it is a kind of slow-paced book. Janey reminds me of my best friend, because she never gives up. I love Doris Gates's books!
I think this book is good for kids aged 5 and over. You should be the type of person that is ready for anything to happen and the kind of person that likes happy stories. This book has about 150 pages, so you should be a person who likes middle sized chapter books. I hope you like it!