Strega Nona
Written by Tomie dePaola
Illustrated by Tomie dePaola
Reviewed by M.F. (age 9)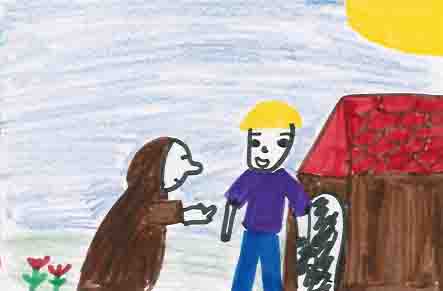 This book is about a lady named Strega Nona. She was looking for someone to help her around the house. Big Anthony offered to help, so Strega Nona explained the directions to him but he wasn't listening. Strega Nona told Big Anthony not to touch the pasta pot. While Anthony was working he peeked through the window and saw Strega Nona singing to the magic pot. The pot started cooking, then Strega Nona sang to the pot to stop. Big Anthony never saw that part so the next day when Strega Nona told Big Anthony that she was going to see her sister, Strega Amelia, Big Anthony went to town and told everyone there was a magic pasta pot. Big Anthony made pasta for all the townspeople but he couldn't get the pot to stop because he didn't see Strega Nona blow three kisses to stop the pot. Read the book to see if Big Anthony gets in trouble with Strega Nona.
I would never touch anything that someone told me not to touch. I wouldn't know what could happen to me. My favorite part was when Strega Nona was saying a spell to make the pasta pot cook.. I liked her character because she was funny looking and could cure headaches and get rid of warts.
I recommend this book because it is magical and like a fairy tale.