The Boys Start the War/ The Girls Get Even
Written by Phyllis Reynolds Naylor
Reviewed by J.B. (age 9)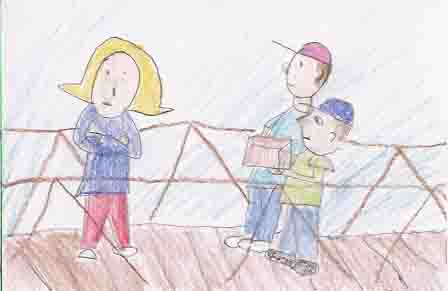 The Boys Start the War is about two families that are best friends, the Hatford boys and the Benson Boys. The Hatford boys are Wally, Peter, Jake, and Josh. The Benson boys are Bill, Danny,, Steve, Tony, and Doug. One day, the Bensons have to move to Georgia and a new family named the Malloys rent their house. The Malloys have three girls, Caroline, Eddie, and Beth. The boys are not happy. They try to drive the girls away by scaring them, kidnapping Caroline, and putting dead fish on their driveway.
I really liked the book because it was fun reading about the boys and girls always finding ways to get back at each other. Peter reminds me of my younger cousin, Kevin. This is because sometimes you have to nag him like Jake does to Peter to get him to do some things. My favorite part of the book is when the boys put dead fish on the Malloy's driveway.
I recommend this book for two reasons. One, it is very funny to read about the different plans. Second, there is a lot of adventure with all the different ways the boys and girls get revenge on each other.