Beezus and Ramona
Written by Beverly Cleary
Illustrated by Louis Darling
Reviewed by V.O. (age 9)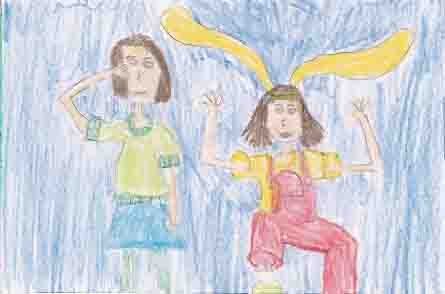 Beezus and Ramona are two sisters who fight all the time. Beezus tries to be patient with Ramona but sometimes Ramona does the most incredibly annoying and embarrassing things. How many sisters put bunny ears on and hop all over the house or put plastic dolls in birthday cakes? Sometimes Beezus doesn't like Ramona that much. Beezus feels guilty because sisters are supposed to love each other but that all changes at Beezus' birthday dinner. When they are having dinner, her mom thought that Beezus was mad at Ramona. Her mom said that when she was a kid she sometimes hated her sister too, and that made Beezus feel much better.
My favorite part of this book is when Beezus' friend comes over and starts playing chess. Then Ramona comes riding into the living room with her tricycle and bumps into the table and all of the chess pieces go all over the place. After her friend left Beezus got mad at Ramona. This reminds me of one time I was playing blocks and I built this magnificent tower and then my little sister came running in and ran right through it. I got so angry that I started to yell at her. Beezus and Ramona also had a lot of other problems. They fought a lot. Their fights were mostly about Ramona's interruptions. She interrupts Beezus by talking each time Beezus does. Sometimes Beezus doesn't even get a chance to talk because of Ramona.
Beezus is the character that changed a lot in this book because in the beginning she was a sister who never gave Ramona a second chance. Then she became a sweet, kind girl because she heard a story from her aunt about when SHE was a kid. Her story was that she too fought with her sister but they forgave each other, and that is exactly what Beezus and Ramona did. Beezus and Ramona have a special relationship because they are sisters. Even though they fight they still love each other and will always be there for one another.
I would definitely recommend this book to someone who likes adventurous books because Ramona always thinks up games that no one would think of. I also think you should read it if you have a little sister!