Lizzie McGuire- Totally Crushed!
Written by adapted by Kiki Thorpe
Reviewed by H.L. (age 9)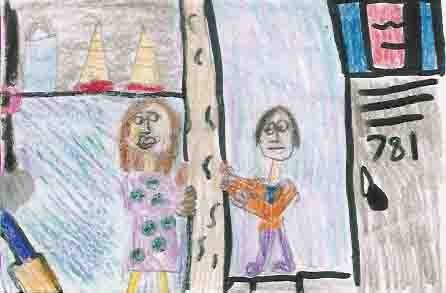 Lizzie McGuire is a teenager who has two best friends, Gordo and Miranda. Lizzie likes this boy, Ethan Craft, but she finds out someone else likes her. It's Larry Tudgeman. He is not the kind of guy that Lizzie wants to date. He is nerdy, geeky, and weird. One day Larry asks Lizzie to go on a date. She says she can't. She feels so rotten that she lied to him that a little later she calls Larry and tells him that she can go out on the date. They go to a science museum and Lizzie actually has fun. They visit exhibits and a lot of other things. The next day at school Lizzie is trying to avoid Larry. She wants to break up with him without breaking his heart.
My favorite character is Lizzie because she is nice and loving to her friends and family, like I am. Lizzie avoids Larry by going in lockers and hiding behind people, but I think she should have just talked to him. He changed from being a weird person to being a nice and understanding friend.
I recommend this book because it is romantic and helped me to see what might happen to me in the future when I grow up. It might help someone with problems they have with their boyfriends or girlfriends.