The BFG
Written by Roald Dahl
Illustrated by Quentin Blake
Reviewed by S.L. (age 9)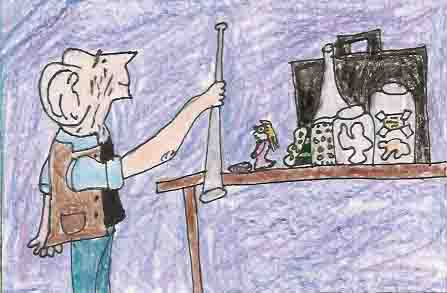 This book is about a little girl named Sophie. She is an orphan who lives in an orphanage. One night, Sophie couldn't sleep. The moon beam was bothering her. Even though she knew she would get punished if she got up from her bed in the middle of the night, she was sure at this point in the night no one would notice, so Sophie got up to close the gap in the curtain and stopped to look out the window. Nothing looked real. When Sophie peered down toward the end of the street she saw something very tall, very black, and very thin. Read the book to find out who it was!
I think this book is a great book because it is interesting when the BFG decides to help Sophie capture the nine terrible man-eating giants who were once the BFG's and Sophie's neighbors in Giant Country because the BFG never showed himself to any human "bean" before. My favorite part is when the BFG and Sophie mix the dream they planned to give to the Queen of England. After it was mixed it turned into a nightmare.
I would recommend this book because it is funny and I think readers would love all the fantasy. If you enjoy this book you might also love some of Roald Dahl's other books like Charlie and the Chocolate Factory, James and the Giant Peach, and The Witches. Readers who love and enjoy Roald Dahls' writing will always discover magic!