The Amazing Days of Abby Hayes- Reach for the Stars
Written by Anne Mazer
Reviewed by J.Z. (age 10)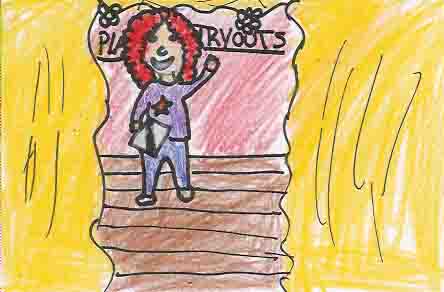 This book is about a girl named Abby Hayes. Abby is in fifth grade at Lancaster Elementary. One day Abby's teacher, Ms. Kantor announced that they were doing a class play, Peter Pan. Abby wants or should I say needs the biggest part in the play. She really wants to be Wendy or Captain Hook. Everyone else wants those parts too, so she really needs to stand out in the tryouts. She is doing everything she can to get the part she wants. Abby is watching the movie at least twice a day, trying to get singing and dancing lessons, and practicing in her spare time. The day of the tryouts she is very nervous. When she tried out she didn't get the part. At the end something good is in store for Abby. The teacher lets her rewrite the whole play.
Abby reminds me of me because she is very determined. She also reminds me of me because she writes her personal things and things she can't tell in her journal just like me.
This book is unique because it is not written like other books. It is written mostly as a journal. This book is a great book because there is so much information and it makes you want to predict what's going to happen as you read it.
I recommend this book to people who like to laugh because Abby's thoughts are very funny. Next I recommend it to people who like to predict. Last, for people who just want to kick back, relax, and enjoy a great book. Amazing Days of Abby Hayes is a great book.