The Falcon's Feathers
Written by Ron Roy
Illustrated by John Stevens Gurney
Reviewed by M.D. (age 9)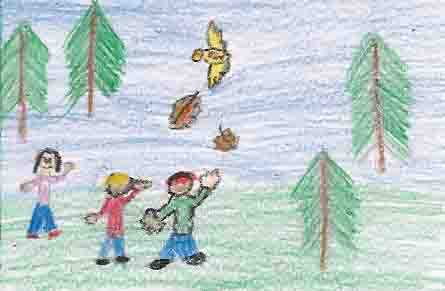 The Falcon's Feathers is about three friends named Josh, Dink, and Ruth Rose. They always watch birds in the woods. One day they went into the woods and found out that the birds were gone. All of them searched and found a bird on the ground with a band around its leg. On the band were some letters and numbers. Josh called the Dept. of Environmental Protection and asked them to help him, Ruth Rose, and Dink find out who stole the birds. The mystery of who is catching the falcons has a surprising ending.
My favorite part of the book was when Dink, Josh, and Ruth Rose all found the bird on the ground with a band. That's because it was an interesting clue. I like mysteries and I always try to figure them out before the end of the book. An interesting part in the book was when the kids figured out who the thief was.
This book taught me to never take birds away from the wilderness and cut their wings or hurt them in any way. I'd rather see the birds flying freely in the sky because that's where they belong. I am in the S.A.V.E. Club at school. In the club we do things like make pictures of trees and we're doing a play on nature. We are also going to plant things like trees and flowers to make our school beautiful. Birds should be living in these trees.
I recommend this book to kids who like different kinds of birds because this book talks about falcons. I learned a lot about them. Kids who like mysteries will also enjoy reading this book.