The Amazing Days of Abby Hayes- Every Cloud Has a Silver Lining
Written by Anne Mazer
Reviewed by A.G. (age 9)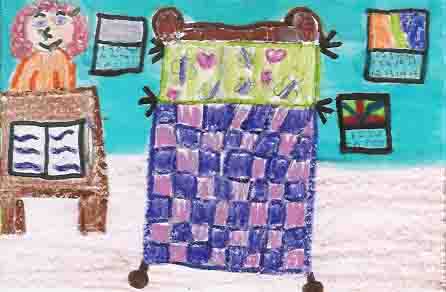 Abby Hayes is starting fifth grade. Her perfect older sisters, and her genius little brother already have proven their worthiness in the Hayes family. Eva is one of the twins and she is a star athlete at almost anything she tries. Isabel is a fashion freak, and she gets straight A's in every subject. Her brother, Alex, is an expert in math. He can do Abby's homework in two minutes. Abby feels that she has no part in the Hayes family so she decides she wants to become a star soccer player. With her friend Jessica's help she trains and trains, all the while writing in a journal. At the end Abby does become a "star" but not for PLAYING soccer.
Abby Hayes is an interesting character. She drinks these disgusting health drinks and almost throws up every time but she is determined to be a good soccer player so she does it. My favorite part is when Abby is in a soccer game and she falls face first into the mud. Abby reminds me of myself. I am a good soccer player and I am on a travel team.
I recommend this book because it is interesting, funny, and sad. It is interesting because most of the writing looks like a diary or a journal. It's funny when she falls in the mud, and sad when Abby scores for the other team and everybody gets mad at her, except for her best friend, Jessica.