Island of the Blue Dolphins
Written by Scott O'Dell
Reviewed by Jordan T. (age 11)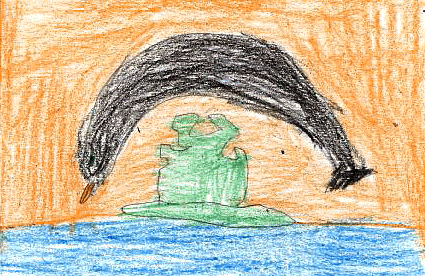 Island of the Blue Dolphins is about bravery and kindness. The story begins when Karana and Ramo, children from the Ghalas-at tribe, were digging for roots and sighted a large ship in the distance. They rarely saw ships and were used traveling on water by canoe. Karana sent Ramo to their settlement to tell Chief Chowig about the strange ship. Later, the chief went to the shore to greet the Aleuts on the ship. It was decided the Aleuts could stay on the island and hunt for sea otter. There were problems that caused Karana's tribe to leave the island to live on the mainland of what is now California. As they were boarding the ship to leave, Ramo, ran back to get his spear and they left without him. Karana does a very brave thing in order to help Ramo and you'll have to read the book to find out the events of their lives.
I liked the book because it was exciting all the way to the end. The author's writing style was interesting and the characters seemed real throughout the whole story. Karana, the main character, was very brave and kind to everyone. Scott O'Dell used details that helped the reader's imagination.
You'll just have to read to find out what amazing things happen to Karana and Ramo. I would recommend Island of the Blue Dolphins to anyone because it is exciting and both young and old would love it.