Holes
Written by Louis Sachar
Reviewed by Molly K (age 9)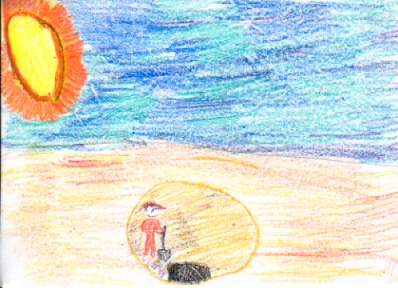 Stanley was at court because of stealing a pair of shoes.The Judge gave him a choice to go to jail or Camp Green Lake. He decides to go to Camp Green Lake. At camp he has to dig a hole 5 feet wide and 5 feet tall. He sleeps in tent D with other boys. The boys have strange nicknames like Armpit, X-ray, and Zero. All the boys aren't really nice to Stanley. The only one that is nice to him is Zero. One day Stanley receives a letter from his mother and Zero is sitting next to him trying to read it. Stanley asks Zero if he knows how to read. Zero said no. Stanley feels bad so he made a deal with Zero that he would teach him how to read if he would dig part of his hole. Zero agrees. When the other boys see what they are doing, they get mad. So they couldn't dig holes together anymore. While he was digging his hole Stanley finds a lipstick tube with the initials K.B.. X-ray sees what he has. He said he should get a day off since he'd been there longer. Stanley gives it to him and X-ray gets the whole day off. Stanley thinks that the Warden is looking for something. To find out if the Warden is looking for something read "Holes"!!!
I think "Holes" is a great book. Sometimes I feel like Stanley does. I feel I am not being treated fairly. Stanley believed in himself and came out on top. I must remember to believe in myself also. I like the adventure in this book. Everyday something new happens to Stanley. It makes me want to keep reading. I like all the characters, but Zero and Stanley are my favorites. I like the way they became friends and helped each other.
I recommend this book for 3rd graders and up especially if you like books with flashbacks. One flashback in this book has to do with Kissin' Kate Barlow robbing Stanley's great grandfather. This book is funny and serious. If you think you want to read "Holes" go to your local library or your local book store and get a copy.