Harry Potter and The Goblet of Fire
Written by J.K. Rowling
Illustrated by Mary GrandPre
Reviewed by Tony N. (age 10)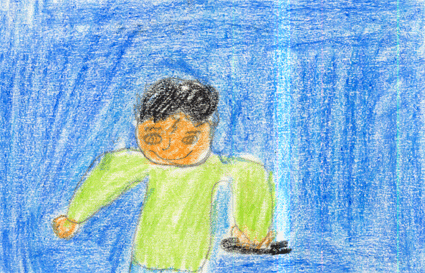 Harry Potter is about Ron and his family picking up Harry and taking him home with them. A couple of days,later they went to the World Quidditch Cup. When Harry finally gets ready to go to Hogwarts, he finds out that all of the parents are keeping a secret from him. When he gets there, he figures out that the secret is they're holding a tri-wizard tournament. Harry enters the tournament and makes it to the last round, tied in first place. Who will win?
I like this book because it's like the other Harry Potter books, but it keeps you guessing and keeps you interested because of all the action. I have a favorite part myself and it's when Harry faces the Horned Dragon. It's not like any book I've ever read because it keeps me interested while other books are boring. I like Hermione the most because she is smart like me.
I recommend this book to not only Harry Potter fans, but people who like action. The action scenes are the biggest reason I like this book.