The Best Christmas Pageant Ever
Written by Barbara Robinson
Illustrated by Judith Gwyn Brown
Reviewed by Damika O. (age 10)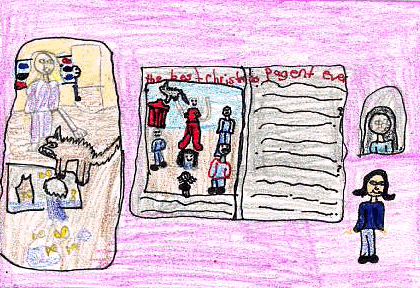 This story is about six bad children. They were actually the scariest kids on the block. They all smoked cigarettes, cursed, stole, lied, and took the name of the Lord in vain. Also, they played with fire and burned things down. Let's put it this way, the herdmans were the worse kids you'll ever meet. The whole book is exciting and will make your toes curl.
I really made a connection when I read this book. One of the characters reminded me of a friend I had in Texas who turned out to be a bully. She did almost everything the Herdmans did! I tried to stay out of the way, but she'd go wherever I went . I learned to choose my friends wisely, just like the six kids in this book. Another character in the book, Imogene, made a big personality change. She always had a bad attitude and bossed other kids around, but by the end of the book she made good things happen for others. I also liked the book because Christmas is one of my favorite holidays.
I recommend this book to any person who likes "lesson books". This one if definitely for them.