Spider's Secret
Written by Richard Platt
Reviewed by Jamal W. (age 11)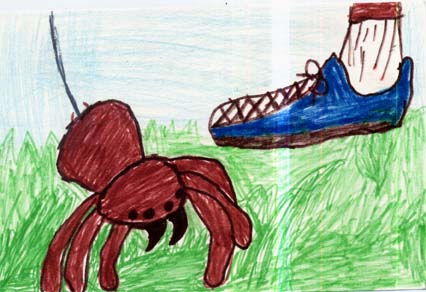 This book is about spiders using their abilities to survive in the wild. You'll find some paragraphs that sound like the spiders are talking to you. Six kinds of spiders are described and shown in the book. The author chose especially interesting creepy creatures.
This book has a lot of different spiders in it, Black Widows, Tarantuas, Jumping Spiders and more. If you ask me, spiders are cool. I was scared of spiders before, but after I read this book, I learned that some aren't poisonous. There's one spider I liked in this book and it's the house spider. It reminds me of myself because it is swift like me.
If you're scared of spiders, read this book and you might become fascinated like I did. The way the author wrote about the spiders made them seem real. The house spider said, "I remember you! You tried to step on me, but you weren't quick enough." I think that makes this book interesting.