Holes
Written by Louis Sachar
Reviewed by Sydney R (age 10)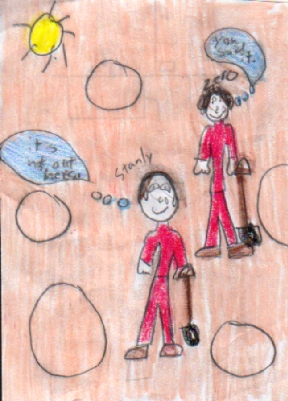 Stanley Yelnats is sentenced unjustly by a Judge to Camp Green Lake. He was accused of stealing a pair of shoes. At Camp Green Lake, Stanley and the rest of the campers had to dig holes. From morning to night they had to dig holes 5 feet deep and 5 feet wide. It was hard because there were yellow spotted lizards waiting. If they found any thing interesting the lucky person would get the day off. Stanley knew there was something the warden wanted. Stanley and friends tried to find out the truth about the holes. Read "Holes" to find out if the kids uncover the truth about the warden and Camp Green Lake.
I like the book "Holes" because of the characters. They are funny and they are mean. When Stanley Yelnats first got there they were mean to him. The first day he got there, they were mean to him. One thing they did was pushed him for not calling them by their nicknames. Then he started to call them by there nicknames and they got nicer to him.
I really like this book so I think you should read it too. I recommend this book to people any age. Anyone can read it. If you are to little to read, just ask your mom or dad to read it to you. I promise you that you will like this book. It might take awhile to read, but it is worth it.