The Trumpet of the Swan
Written by E.B. White
Illustrated by Edward Frascino
Reviewed by Raichelle T. (age 10)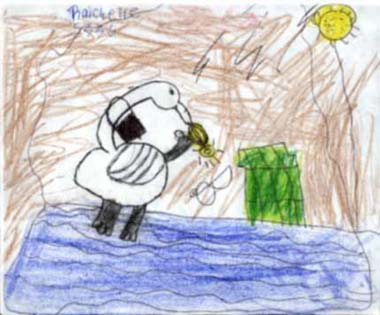 When two swans decide it's time to raise a family they find out that raising a family is not everything. When they finally have kids something is wrong with one of the kids. The one little swan has a speech defect. So this little trumpeter swan has no trumpet noise.
This book is amazing. It is unbelievable how this little swan pulls through and solves his problem. I like this book because it is a touching story. The lesson of this story is you can achieve what you believe.
This book reminds me of a book called "Tyrone the Horrible". The swan in this story is like Boland. He never gives up trying to speak, like Boland tries to defeat Tyrone.
I recommend this book for people who like touching stories. I think that this is a good book for all ages. I think you at home should get your kids to read this amazing and touching story. I think they will enjoy it and look up to it.