Tales of a Fourth Grade Nothing
Written by Judy Blume
Illustrated by Roy Doty
Reviewed by Michele R (age 10)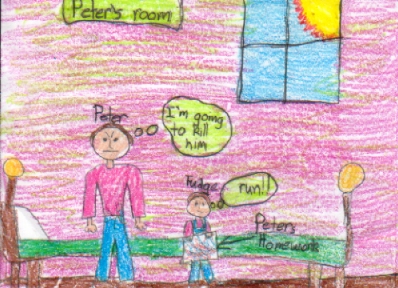 Peter Hatcher lives with his Mom, Dad, and little brother named Farley Drexel Hatcher. But everyone calls him Fudge. Peter Hatcher has a best friend named Jimmy Fargo. Peter won a pet turtle named Dribble at Jimmy Fargo's birthday party. Fudge gets in a lot of trouble like getting his dad fired from the Juicy-O company, eating flowers, and ruining Peter's homework. Once Peter's mom took Peter and Fudge out for the day. First they went to the dentist. Fudge wouldn't open his mouth so Peter had to trick him. Next they went to the shoe store. Fudge had a tantrum. After that they went to Hamburger Heaven and Fudge put his mashed potatoes on the wall. Peter said he would never go out with Fudge again. There's a girl named Sheila who Peter hates. Will Peter Hatcher survive 4th Grade with Fudge messing up his life? Read "Tales of a Fourth Grade Nothing" to find out.
I like this book because it makes me laugh. The part that makes me laugh is when Fudge loses his two front teeth and cuts of his hair. I also like this book because there's a surprise on every page. It is a story of a normal family. It has problems. It has fun times just like my family. I just love the book.
If you like very funny stories and especially if you have a younger brother or sister, I recommend this book to you. You will love it. If you like this book a lot, there are about four more books in this series. It will keep you laughing reading about the trouble Fudge causes.