Charlotte's Web
Written by E.B. White
Illustrated by Garth Williams
Reviewed by Eric H (age 9)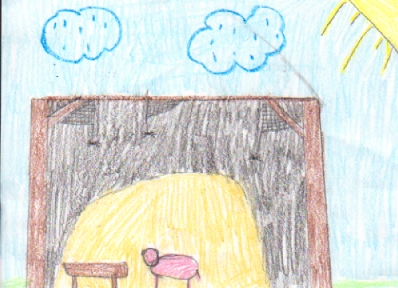 One day Fern's Papa goes out with an ax to kill a pig. Then Fern ran outside and said "Don't kill the pig!" Her papa lets her have the pig, but she has to feed it. The pig's name is Wilbur. When he grows up, they have to give the pig to Mr. Zuckerman, Fern's Uncle. Wilbur can stay at Mr. Zuckerman's farm. He doesn't like it there when Fern doesn't come. He gets lonely. He doesn't have any friends. Then one evening there is a voice, Wilbur can't see who it is. The voice belongs to a spider named Charlotte. Charlotte and Wilbur become friends. Wilbur finds out that the farmer plans to kill Wilbur for meat. He is very upset and Charlotte tells him she will help him. She makes up a plane that makes Wilbur famous. Read the story to find out about the plan that saves Wilbur's life.
I like the story because it has some funny parts. My favorite part of the story is when Avery falls and breaks a rotten egg. The best characters are Templeton and Charlotte. I like Templeton because he tries to be a mean old rat but he has a kind heart. He does his best to help Wilbur. I like Charlotte because she saves Wilbur's life. Charlotte cares for Wilbur. Wilbur and Charlotte are best friends. They do kind and fun things together, just like my friend Robert and me.
I think people that like farms, animals or spiders should read Charlotte's Web. It is a very interesting story.